First Data Research & Development Centre, Streame Business Park, Nenagh, Co Tipperary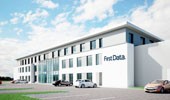 First Data Technology Centre a new data centre at Streame Business Park, Nenagh, Co Tipperary with principal contractor Structuretone. OR Plant Hire were involved in the soft strip, demolitions, civils and structural and temporary works associated with demolition activities.
Works commencing in October 2017. OR Plant Hire Ltd. carefully demolished existing structures internal wall, floors, suspended ceilings, kitchenettes and toilets of the existing three story building leaving ready for new finishes.
Excavation and groundworks included breaking out of existing concrete, deposit and compact stone, preparing and installing drainage channels. Finishes included paving, kerbing and footpaths.